Rainbow coloured ActiveJet lamp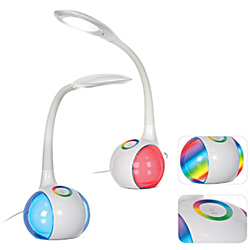 ActiveJet range of lamps acquired a new product. It is a desktop lamp with dual application. On one hand, it offers white light with controlled intensity. On the other, its glowing base has a shape of a colourful ball and is perfect to create cosy atmosphere.
ActiveJet AJE-RAINBOW RGB LED Lamp is a quality 6-Watt desktop lamp. With an ergonomic touch panel which allows one to adjust the intensity of light and select a full spectrum of colours, it can also serve as a night lamp. Its flexible neck makes it possible to direct the light in any direction and the spherical base shines independently, either in a selected colour of steady light or smoothly running through all the colours of the rainbow. Both functions, the main lamp and its colourful spherical base, can work at the same time and are independent of each other.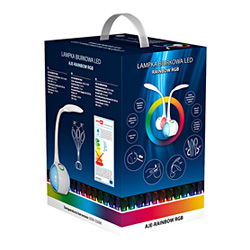 "The newly introduced lamp lets the user obtain any colour of light, as it leverages the colour mixing phenomenon. The use of RGB LED diodes and special controls allow customising the light colour, for example to choose one suitable for a child's room. In addition, LED lamps offer two more essential advantages: they do not contain mercury, which is highly toxic for the environment, and they do not heat up while in use. That makes them perfectly safe for children," says Tomasz Sławiński, Product Manager.

The new AJE-RAINBOW RGB lamp is a great solution for people who want to save energy and give their home a unique look and feel. The declared service life of a LED light source is 35,000 hours.
The product comes with a 2-year warranty and includes the desktop lamp, a 5V/1A DC power supply, a warranty card and a manual in Polish.
Suggested Retail Price: 165 PLN.