Spring is coming and so are new ActiveJet products
The ActiveJet offering has been enriched with new products for Brother printing devices. Due to its high efficiency, the new toner cartridge model ATB-3390 N is expected to be a perfect response to the expectations of small and medium size businesses. On the other hand, the inkjet cartridge series AB-123BN, AB-123CN, AB-123MN, AB-123YN offers great value to private users.
The users who want to print a lot without worrying about the cost are certainly going to welcome our new addition: the ATB-3390N Supreme toner cartridge. Its declared yield at 5% coverage is 12,000 A4 pages.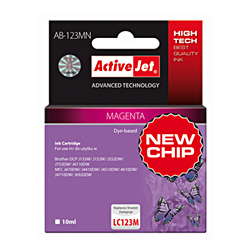 "Optimising the cost while maintaining the high quality parameters of printed materials is critical to every industry nowadays. That is where companies see the benefits of using alternative supplies, not only arising of their lower cost, but also for the robust quality of print. This awareness drives our continuous efforts aimed at expanding our product base and offering the best quality products at affordable prices. I am confident we have managed to meet the expectations of our customers yet again", says Rafał Ornowski, ACTION S.A. Management Board's Representative for the ActiveJet brand.
Ink cartridges AB-123BN, AB-123CN, AB-123MN and AB-123YN, available in the Supreme version, are compatible with the following Brother DCP printers: J132W, J152W, J552DW, J752DW, J4110DW and with MFC models: J470DW, J4410DW, J4510DW, J4610DW, J4710DW, J6920DW. Our new products are filled with A+ class inks and feature chips that make them compatible with the most recent Brother printer software.
"In order to ensure that our offer is truly comprehensive, we keep improving our portfolio with all customer groups in mind. That is why we have just added a series of inkjet cartridges for Brother printers to our portfolio," adds Ornowski.
| ActiveJet Symbol | Version | OEM | Colour | Capacity | Compatibility | Suggested Retail Price |
| --- | --- | --- | --- | --- | --- | --- |
ActiveJet Symbol
Version
OEM
Colour
Volume (ml)
Compatibility
Suggested Retail Price
AB-123BN
AB-123CN
AB-123MN
AB-123YN
Supreme
LC123BK
LC123C
LC123M
LC123Y
Black
Cyan
Magenta
Yellow
15
10
10
10
DCP: J132W, J152W, J752DW, J4110DW
MFC: J470DW, J4410DW, J4510DW, J4610DW, J4710DW, J6920DW
34.90 PLN/piece
The new products are covered by a 5-year warranty.
Note: OEM names were used exclusively for identification purposes.