The editors of the monthly PC World magazine once again tested and compared the alternative consumable materials. In this edition, the alternative inks for the HP laser printers have been tested. For the second year in a row the ActiveJet brand product has won the "Best Buy" category, and thus has confirmed its status of the undisputed leader in the alternative consumables market.
Test winner, the AH-655BR ink, has been praised by the PC World experts for its extremely high performance, low cost of printing and the repeatable quality of the print. The ActiveJet product prints on the average 594 pages, which has been the best result among all the inks, which have been tested. With such an excellent performance, the cost per page amounts only to PLN 0.05, which is three times less than in the case of the original HP ink. In addition, the ink dries quickly, there is no smudging, and the print is permanent.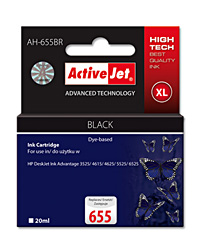 - The award we have received from the PC World, not only means a big honor for us but also confirms that the market appreciates the effort, we make to develop our products
- said Mr Rafał Ornowski, ACTION S.A. Management Board Representative for the ActiveJet brand.
- The source of the ActiveJet success is the combination of modern technology, efficiency and high quality of the produced ink. The result is the top quality and the top performance product, if compared to all the other brands available on the market. I really appreciate comparative tests of this kind, because they verify the real value of marketing narration and provide users with the objective information about quality of the products available on the market, and about their real performance, which, as the test has shown, proved to be an extremely demanding challenge for the competition.
Previous editions of the PC World tests have brought the ActiveJet brand five awards: "Editor's Choice" for the AH-301BRX ink for an HP printer, "Best Buy of the PC World" for the AB-985BN cartridge for the Brother printer, "Editor's Choice" for the ATB-1030N toner compatible with the laser printers of the Brother brand, "Best Buy" for the AH-301BRX ink for the HP DeskJet 1150 printer, and the "Best performance" for the ATH-85N toner.