The Best Value for Activejet 2017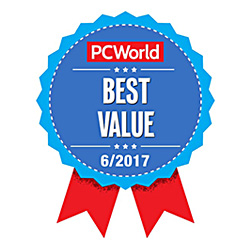 The editors of PC World magazine have once again performed the great test of alternative cartridges for inkjet printers. This time the staff included an analysis of advanced printing heads intended for HP devices. Again ActiveJet has again been named the leader of this market, distinguished for its "Best Cost-Effectiveness" and "Best Efficiency".
The PC World test involved all the aspects of use, including installation, general quality of the ink cartridges and key printing parameters. The winning cartridges, the ActiveJet AH-650BR (black) and AH-650CR (colour), were appreciated for their great efficiency and excellent price to quality ratio. ActiveJet products allow the printing of 618 pages in coloured ink and as many as 1,039 pages in black ink. This accomplishment puts the company way ahead of the competition. Another feature worth knowing about is the low cost of printing 100 pages, which when using ActiveJet replacement cartridges is only PLN 10.51. This is about half that of its nearest competitor, and a fifth of the one placed last in the ranking test. The long list of benefits of ActiveJet products is complemented by the five-year guarantee, easy to install cases and a clear user manual.